The consultation:
1. Establish Client-Injector Relationship:
The most important part of the consultation is to meet and establish your relationship with you injector. Voice your concerns, your problem areas and explain your goals and budget.
Do you feel comfortable with them?
Are they explaining the procedure and risks in a way that you understand?
Are they answering your questions and allowing you to explain your concerns?
Are they qualified to deal with this procedure and any medical complications?
Do you trust them?
If any of the above questions are no- then you should not be proceeding with treatment.
Sometimes this is down to personal preference or personalities and you should never feel bad or awkward for saying no or that you need more time to think about treatments.
Trust is key and the relationship must work both ways to communicate your goals and ensure you understand what can and cannot be done.
Once the relationship has been established, the medical check comes next.
2. Medical History:
A detailed medical history check will be carried out to ensure you are suitable for the treatment, that your injector has been able to assess the risk of the procedure and potential emergencies.
*Your emergency contact detail and GP details will be required for the procedures, this is for your own safety and to ensure we are able to follow up any complications and ease referrals in any unforeseen circumstances.
*Your medical history will be discussed and your doctor will explain any potential risks that your medical history may have on different treatments,
*You should always inform your doctor of any changes to your medical history, no matter how small- before any treatments and at every consultation.
When would I not be suitable for aesthetic treatments?
- See my other blog post on medical history checks and risks (coming soon)
After the medical assessment we move on to the facial assessment.
3. Full Facial Assessment & Photographs
It is important to treat the whole face and person, rather than just the area.
Quite often the area of concern can be treated indirectly, e.e. by treating the cheeks you can lift the lower face.
This is important to evaluate and explain to clients as they often know what they would like to improve but do not know what treatment is needed to balance asymmetries, facial proportions and golden ratios.
The whole face is analysed.
Your pre-op photographs will be taken at this point. Front on and Side on.
Lips, Cheeks, Noses, Chins and Jawlines...
are all areas which can have filler added to increase volume, definition and add contour.
These areas can be treated together for scientific 'beautification' and 'masculinisation'.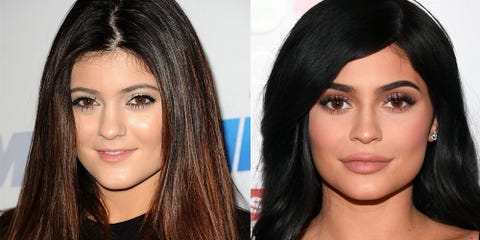 Kylie Jenner- 'Beautification'.
Beautiful before, but can you spot the differences.
I say scientific, as beauty is in the eye in of the beholder. Beauty varies amongst individuals, age, preference and ethnicity.
However, if we focus on western 'general' preference, studies have shown that symmetrical, proportional front on thirds and skeletal class 1 side profiles are deemed to be 'more' attractive.
The golden ratio proposes the 'ideal' lip proportion, where the upper:lower lip = 1:1.6.
This trend does however seem to be changing with time as lip filler is increasing in popularity, a 1:1 ratio can be seen to improve with time.
So what are all these classifications and science stuff, surely science can't define beauty...
Symmetry:
Angelina Jolie- one of worlds most attractive females, also one of the most symmetrical faces.


George Clooney- one of worlds most attractive males, also one of the most symmetrical faces.
Coincidence? I think not...
Everyone is asymmetrical. Even George and Angelina...
Which side you sleep on will have a big factor on asymmetry, the aging process and treatment result.
After you have a new aesthetic treatment you will be looking at the treated area more than you ever have done before, this is often when asymmetries are first noticed by clients, this is why the pre-op photographs are so important and why it is so important for us to address before the treatment starts.
The rule of thirds:
Ideally each third of your face is in proportion. 1:1:1


This is often not the case, and not always something can be fixed with botulinum toxin or filler alone.

The importance of this botox and fillers is to camouflage and adjust where necessary,
but mainly to respect the existing facial shape and to treat the whole face rather than just the area in order to prevent making natural discrepancy more obvious.
Chin filler can be used to lengthen the lower face to create a more oval appearance.
Face Shape:
The triangle theory:
Youthful: High cheek bones, slim and pointed lower face with no facial sagging.
Aging: Cheek and chin bones reduce, lower face droops and the triangle flips.
To flip the triangle we can add cheek filler to widen the midface, support the eyes and lift the lower face.
The 'ideal' modern feminine face shape, is oval and contoured.
To achieve this as kylie jenner has done, cheek filler, chin filler and masseter slimming treatments can be used to lengthen and slim the face.
The 'ideal' modern masculine face shape is more square jawed, defined and a wider chin.
Jawline filler and chin filler can be used to widen and protrude chins and jawlines,
Skeletal Classification:
Class 1: Class 2: Class 3:
Upper and Lower jaw equal Upper jaw larger than lower Lower jaw larger than upper.
Side profile can easily be ignored.
The whole face should be treated and respected.
E.G. If the Class 2 lady in the image above wanted upper lip filler it could make her situation worse.
Chin filler would be the first treatment, followed by lip filler in order to balance the whole face before treating the area.
Skin Assessment
Risk factors: UV exposure, SPF use, smoking, alcohol use, skincare regime, age, stress.
Skin conditions: cold sores, rosacea, acne, dry, dehydrated, pigmentation, aging, sensitive, eczema.
Wrinkle assessment: none, fine, moderate, severe.
4. Target area concern
Once the whole face has been assessed we can then discuss your specific concern and develop a treatment plan based on your desires, time and budget.
The types of treatments available, costs and risks will be discussed with you at this point.
Consent forms will be given for you to read through and sign at your leisure.
You will be able to take time to think about the treatment or may be able to have the treatment done on the day if time has been allowed. It is importnat to take the time to consider your options, if you are not sure do not go ahead with treatment and explain your concerns to your injector.
With aesthetic anti-aging treatments we always always always need to be preventing problems.
Your injector will also advise you on alternative methods to compliment any aesthetic treatments to maximise your results.
A future blog post on skincare routines and skin types will be coming soon...